Still looking for the best new online slots of the week to play in the run-up to Christmas? You've come to the right place. We have another four top releases to brighten up even the most tired slots lobby.
First up, we have Ted Cash Lock from Blueprint Gaming. It's another excellent release in the range of slots featuring everyone's favorite foul-mouthed bear.
Biker Santa: Bells Angels is Boldplay's contribution to Christmas-themed slots. But if you thought this was the usual festive slots fare, think again: there are Christmassy Harley-Davidsons, tree-shaped guitars, and an elf who thinks he's a rock drummer.
Enjoy some ball action in Pine of Plinko Dream Drop from Print Studios. Win up to 1000x in the Plinko Bonus or win one of five jackpots with the Dream Drop!
We end our look at the best new online slots of the week with Legends of the Colosseum Megaways from Synot Games. It's a multiway slot with a Roman theme and some very special bonus features. Play up to 86,436 ways to win as you trigger the wheel of fortune for bigger wins.
Remember, you can try all these top new online slots for free right here at VegasSlotsOnline. Click on the links below and play for free with zero risk!
The trash-talking bear is back in Blueprint Gaming's Ted Cash Lock. This time, our favorite talking and cursing bear is bringing the Cash Lock mayhem with him in a slot filled with bonus thrills.
Seth MacFarlane's 2012 film, Ted, is still a favorite among comedy fans for its outrageous humor. Blueprint Gaming acquired the rights for a slot tie-in and released a pretty faithful game that featured a bunch of random modifiers and bonuses.
Ted Cash Lock is the latest game in the line that manages to hold on to some of the bonus action that made the original slot so much fun. Most of the simple graphics have also been retained in this five-reel slot.
You trigger free spins by landing six or more Ted symbols. In addition, a special border is applied around any reel position where the rainbow Ted symbol appears. Once free spins have ended, the special borders reveal a cash prize.
You can also trigger the Ted bonus wheel by landing three bonus scatters in any position. You win one of three bonuses including Super High Spins, Lazer Gun Spins, or Ted Colossal Spins.
Colossal Ted Spins adds one or more giant symbols to the game area before free spins begin. Lazer Gun Spins add special borders to the screen around random symbols. Finally, Super High Spins triggers gold borders around bonus symbols which award a cash prize at the end of the feature.
The Cash Lock feature isn't for everyone and the spread of bonus features was probably wider in the original Ted slot. However, this new game is for you if you can't get enough of the furry foul-mouthed critter. Give Ted Cash Lock a spin for free today.
Get your motor running and head out on the festive highway in Biker Santa: Bells Angels from Boldplay. Create Mega symbols on non-winning spins and ride the game to a big win!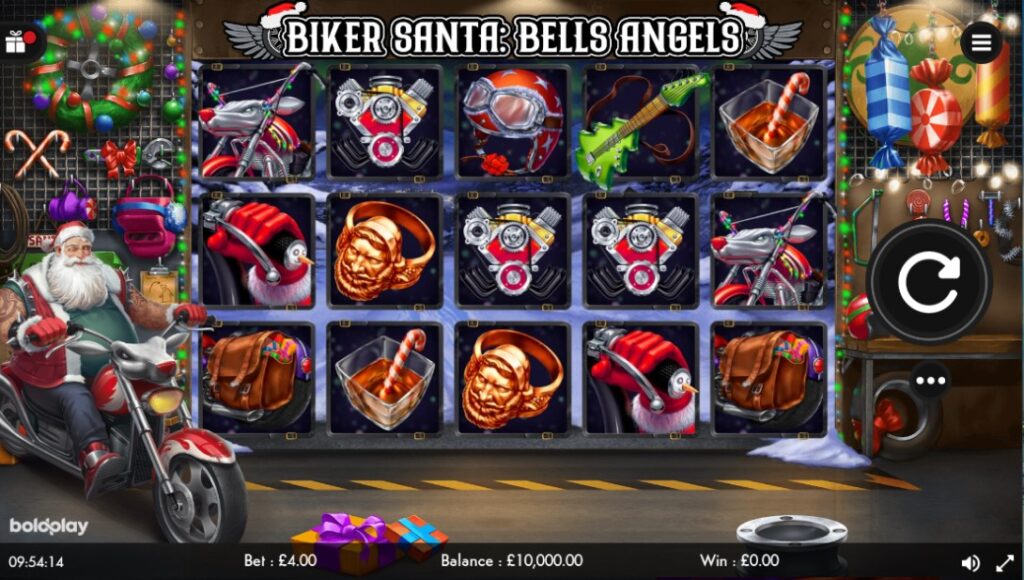 Boldplay follows up on its recent medium-volatility releases with a big high-variance slot for the winter. Biker Santa: Bells Angels is a beautiful-looking slot that features a Harley-riding Santa and a cast of characters that includes a rock drummer elf and Rudolph the Red-Nosed Motorbike.
There are 20 paylines in Biker Santa: Bells Angels and the game is played on a set of five reels. Wild symbols can appear regularly to complete the gaps in winning combinations.
You trigger a cash bonus worth 1x-100x total stake if you land two or more scatters anywhere in view. But it's the Mega symbols that appeal during the base game. A reel will copy to the adjacent reels on any non-winning spin. In doing so, a giant Mega symbol covering 2×2 can be created. A payout is awarded wherever possible.
There's no free spins bonus in Biker Santa: Bells Angels. However, it's the base game mechanics that give this slot its excitement. The reel copy means you have a second bite of the cherry after any non-winning spin. Although that oftentimes results in a blank, it adds to the excitement to see if you have a winner.
Christmas-themed slots don't come funkier than Biker Santa: Bells Angels. The graphics alone are worth the price of admission. Rock out today and give the game a spin for free.
Play Pine of Plinko Dream Drop and trigger multipliers or a big fixed jackpot! Drop the balls and fill the meters in this exciting fantasy-themed slot from Print Studios.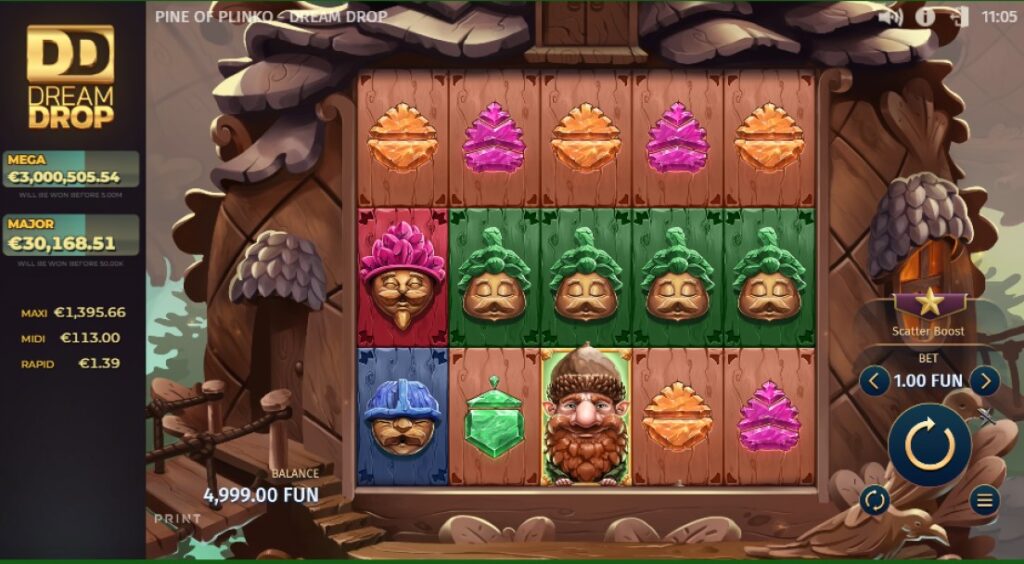 We take a short break from giant symbols now with Pine of Plinko Dream Drop from Print Studios. There might not be a Cash Lock but there is a Dream Drop to up the excitement levels.
You trigger the Dream Drop Plinko Bonus with three or more scatters anywhere in the game area. This is where things get interesting. In the Plinko Bonus, a series of steel balls fall down the Plinko course and drop into 15 pockets that award various multipliers. You fill meters to earn yourself another ten drops with extra balls. It's possible to win up to 1000x during the feature.
Alternatively, you may trigger the Dream Drop Plinko Jackpot with 3 DD icons in any position. Balls drop endlessly until one of the five jackpot meters has been filled up. Jackpots range from Rapid (1.00) to Mega (500,000.00).
The Plinko mechanic in this slot sets it apart from regular free spins-type games. You have some control over how often the balls drop too. You can release one at a time or go hell for leather and let them drop all at the same time. While many of the balls seem to land in the lower-paying pockets, it's easily possible to fill the meter and trigger more balls.
Looking for something a little different in your seasonal slots lobby? Give Pine of Plinko Dream Drop a play for free at VegasSlotsOnline.
Let's end our round-up of the best new online slots of the week with a big multiway game from SYNOT Games. Legends of the Colosseum features over 86,000 ways to win and a wheel of fortune. Are you not entertained?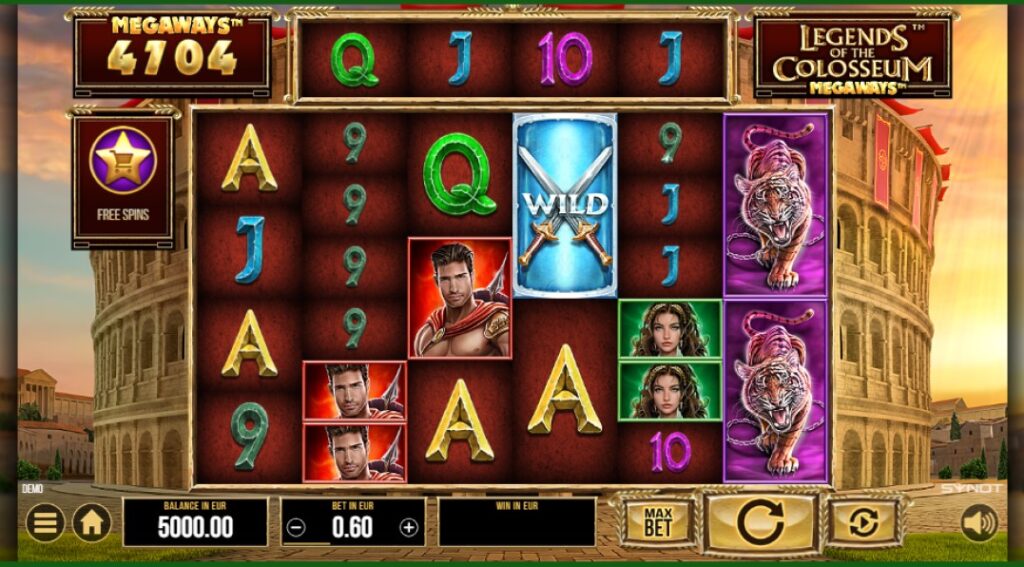 You play Legends of the Colosseum Megaways on a six-reel game arena where every spin can contain a different number of ways to win. It's possible to trigger up to 86,436 ways on each spin. In addition, this slot utilizes a horizontal topper which connects with the regular reel set to create winning combos.
After each winning spin, symbols involved disappear and are replaced by those sitting above on the reels. You trigger a respin for a chance of winning another payout.
Plus, you can activate a free spins bonus with four scatters on reels two, three, four, and five at the same time. You trigger a wheel of fortune which reveals a number of free spins, a win multiplier and the level of prize. There are nine levels in total, which you upgrade by collecting three Gold Coins on the wheel. In addition, you may trigger win multipliers worth 2x–25x or 5–14 free spins.
It's the wheel of fortune that really elevates Legends of the Colosseum Megaways. There's an element of mystery when you don't know what bonus you're going to trigger. Plus, the addition of nine levels of bonus means there's always something extra to play for. Why not give it a play for free today?
For more exciting games, make sure you visit our New Online Slots page!
The post Best New Online Slots of the Week | December 9, 2022 appeared first on VegasSlotsOnline News.